Project Title:
Van Gogh - Neural Style - RunwayML
Role:
Designer
Skills:
RunwayML
Google

Timeframe:
One Week
Tools:
RunwayML &
wikipedia.org/wiki/Vincent_van_Gogh
I was inspired by my recent visit to the Immersive Van Gogh exhibit at the Lighthouse Artspace Chicago. The projections illuminated in the space catalog Van Gogh's artwork over his lifetime in a new and exciting way. The audience is actually "in" the moving paintings. The exhibit were designed and conceived by Massimiliano Siccardi, with a soundtrack by Luca Longobardi, both of whom pioneered immersive digital art experiences in France.

Problem:

For the final project, I chose to create images with my webcam and found images using the Neural-Style model in RunwayML.

Solutions:
I played with combinations of Van Gogh's famous paintings and my webcam. The output is stylized images in the style of famous Van Gogh paintings. At first, I selected the content image of
Skull of a Skeleton with Burning Cigarette
, 1885–86 as the content image and the style image set to my webcam.
Then I tried another with
Still Life: Vase with Fourteen Sunflowers
, August 1888. I noticed that it was picking up the color of my shirt with both examples, which was an unexpected effect.
I then tried using two paintings to blend into one output.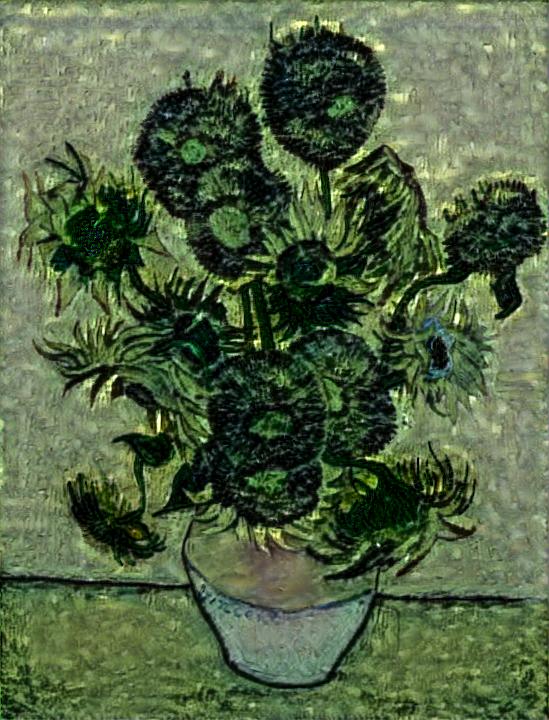 I then shifted my focus to
The Starry Night
, June 1889. At this point, I decided to swap my inputs. I got some exciting image qualities. My machine could not do a quick enough video output, so I had to skip screen recording.